Date:
November 2006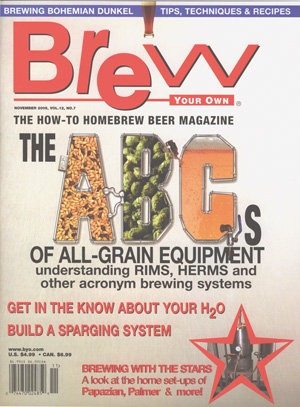 8 result(s).
Before Czechoslovakia became home of the light Pilsners, it was in the dark. Learn how to brew a Bohemian Dunkel — the beer that was king before Czechs "saw the light."
---
Water, water everywhere….but how much do we need? We'll give you the tools to calculate your predicted water usage and a quick primer on combatting chloramines.
---
If you want to fine tune your carbonation levels, you need to go beyond simply adding three-quarters of a cup of sugar to your bottling bucket. In this article, we will take you from the chemistry of sugars, to the contribution of residual carbon dioxide to getting the right level of carbonation for your homebrew.
---
8 result(s) found.